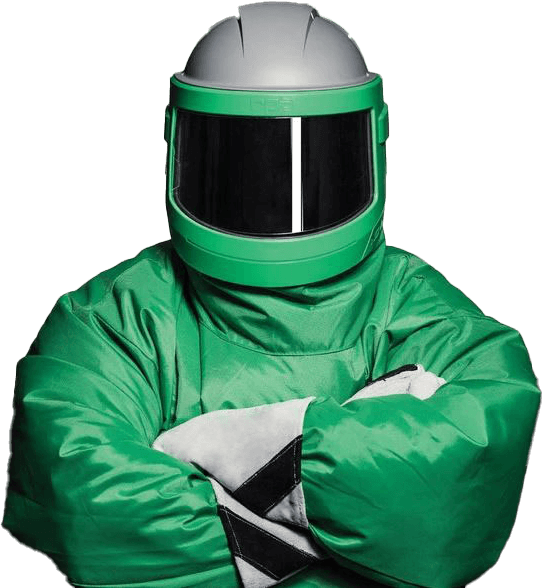 Brandon Acker /
05.03.2022
Surface Prep for Smaller Parts: When to Use an Abrasive Blast Cabinet
Small parts often need surface preparation to remove mill scale, rust, old paint and other contaminants in order to prepare the parts for painting or coating.
Surface prep is different from surface finishing.
Although both processes change the surface of the part, surface finishing refers to altering the surface in terms of appearance or to enhance a specific property.
With surface preparation, the part is cleaned and prepped for paint or other coating to adhere properly. A common surface prep example most of us have encountered is sanding wood trim before painting. If you don't sand – or rough up the surface – the paint won't adhere properly.
Two methods often used to finish or prep a surface include vibratory tumbling and abrasive blasting. Choosing one method over the other is more a consideration of part type and application versus one method being better than the other.
Vibratory tumbling
This process uses tubs or bowls that vibrate at high speeds, gravity and/or abrasive media. If you have hundreds or thousands of parts, or a few larger parts, that need deburring, polishing, cleaning, or descaling, vibratory tumbling is ideal.
Depending on your application, tumbling media can include corn cob, ceramic, steel, plastic, urethane, etc. The size and shape of the media is also important with regard to achieving consistent results across your parts.
Abrasive blast cleaning using a blast cabinet
Abrasive blasting is ideal for when you need to remove a coating, clean, or create a surface profile – the measurement of the maximum peak-to-valley depth generated by the abrasive being blasted.
Also referred to as "anchor pattern," these peaks and valleys get filled with the coating or paint – allowing each to "grab on" and adhere to the part's surface (Figure 1).

You can use a blast cabinet to smooth a rough surface, roughen a smooth surface, clean or remove a coating on almost anything: automotive or airplane parts, fiberglass, steel, stainless steel, etc.
Like vibratory tumbling, abrasive blasting can remove mill scale, rust, powder coating, and old paint. A chemical solvent may be needed to remove oil or grease.
Without proper surface preparation, the coating or paint will eventually fail.
How a blast cabinet works
A blast cabinet works similarly to a small blast room: The operator places the parts in the blast cabinet, puts his hands in the gloves, holds the blast gun with one hand and the part with the other, and then steps on a foot pedal to begin the blasting operation.
While blasting, the media falls to the bottom of the cabinet "cone" and is vacuumed or sucked out via a 4″ or 6″ hose back into the media reclaim system/cyclone separator, where it's cleaned and returned to the blast machine for reuse. The cycle continues as long as the operator keeps blasting.
The dust collector is what creates the suction that vacuums the media and dust out of the cabinet. The dust goes into the dust collector and the good media falls back into the blast machine.
A blast cabinet also uses different media than a vibratory tumbler: Aluminum oxide, garnet, plastic, glass beads, or steel grit/shot. (See our helpful FAQ, Which media should I use with my Titan blast room?)
Titan blast cabinets: Designed for continual use and abuse
If your operation calls for blasting all day or blasting over multiple shifts, then the high-end Titan blast cabinet was designed for you. The Titan blast cabinet is super durable and comes packed with industry exclusives: No-leak doors, a rugged structural steel frame, LED window frame light, and our lifting bars (no more crushed cone!).
Our commitment to providing innovative, high-performance blast equipment is why we say the Titan Blast Cabinet is the last one you'll ever need to buy.
Our blast cabinets are shipping now. To inquire, call, email, or complete our RFQ form.
Brandon Acker

:

President

Brandon purchased Titan Abrasive from his uncle and founder in 2013. Titan has since redesigned its entire product line to solve dozens of industry challenges.

Brandon purchased Titan Abrasive from his uncle and Titan founder, Bruce Maurer, in 2013 after spending five years learning the ins and outs of the business. He and VP of Engineering Brian Fox have completely redesigned the entire product line to solve the dozens of challenges that have plagued the blasting industry for decades.

Brandon is passionate about American manufacturing, the jobs it creates, the quality produced, and the bright future that lies ahead. He's a frequent guest on manufacturing podcasts where he shares his deep industry expertise. Brandon holds a Bachelor of Science degree from Arizona State University.