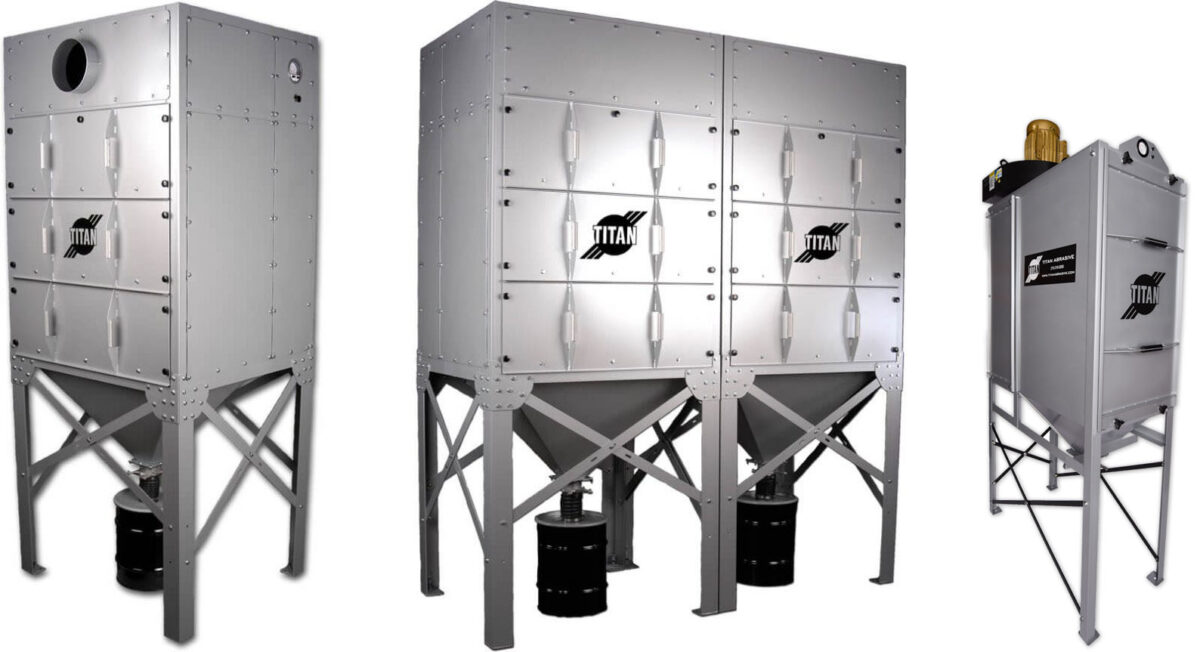 Durable – Modular – Easy to Operate & Maintain
Titan Cartridge Dust Collector Series is the most affordable, versatile, high-performance dust collector on the market today.
Designed exclusively by Titan for abrasive blasting applications – including blast rooms and blast cabinets – these dust collectors provide the proper ventilation needed to assure maximum visibility, allowing the operator to work safely and productively.
Down-time is also a thing of the past as the reverse pulse cleaning system momentarily reverses the flow of air through the filter element, knocking caked-on dust into the hopper or dust drum while the dust collector is in operation. Add a Photohelic gauge for optimized cleaning.
These dust collectors deliver maximum efficiency, require zero outside venting of air, and eliminate heated and cooled air loss – significantly reducing energy costs.
---
Benefits of Titan cartridge dust collectors
Captures dust-filled air, filters it, and returns the clean air to the plant
Delivers maximum efficiency and rugged durability
Requires zero outside venting of air
Eliminates heated and cooled air loss — significantly reducing energy costs
Modular Design — Versatile, expandable, reconfigure or upgrade as needed
Internal abrasive wear Inlets — Bolt-in and replaceable
Smaller footprint and overall height than the leading competition
Options can be added at any time
---
Easily expand or reconfigure to meet your specific needs (frames, components, and options can be added as needed).
Eliminates the need for a complete replacement of a working dust collection system due to size requirements.
Standard internal abrasive wear inlets are bolt-in and can be easily replaced.
External abrasive wear inlet and shorter legs can be added as needed at any time.
---
Advanced NanoFiber Filtration Technology
Comes standard!
Allows for the filter to surface load, resulting in lower pressure drop, reduced pulse-cleaning cycles, and less wear and tear
Longer filter life means significant cost savings over time
Easily replaceable
Only cartridge on the market to receive a MERV 15 rating
---
NEW!
Small Cartridge Dust Collector
Designed specifically for use with blast cabinets (including our own redesigned, patent-pending, cabinet line).
Single units available at 600cfm, 900cfm, or 1200cfm.
Incorporates all of the same features as our standard dust collector.
The smallest, most durable, and versatile dust collector line for use with a blast cabinet on the market.
---
Photohelic Gauge – Measures and controls differential pressure, providing fully automated cleaning and longer filter life; reduces system air consumption; factory-installed — Let us know when you order!
Shorter Legs – For 5 gallon pail for low area conditions
Hopper Butterfly Valve Assembly – Upgrade to standard slide gate
External Abrasive Wear Inlet
Hazardous Condition Controls
Hazardous Condition Venting Door