Blast Cabinets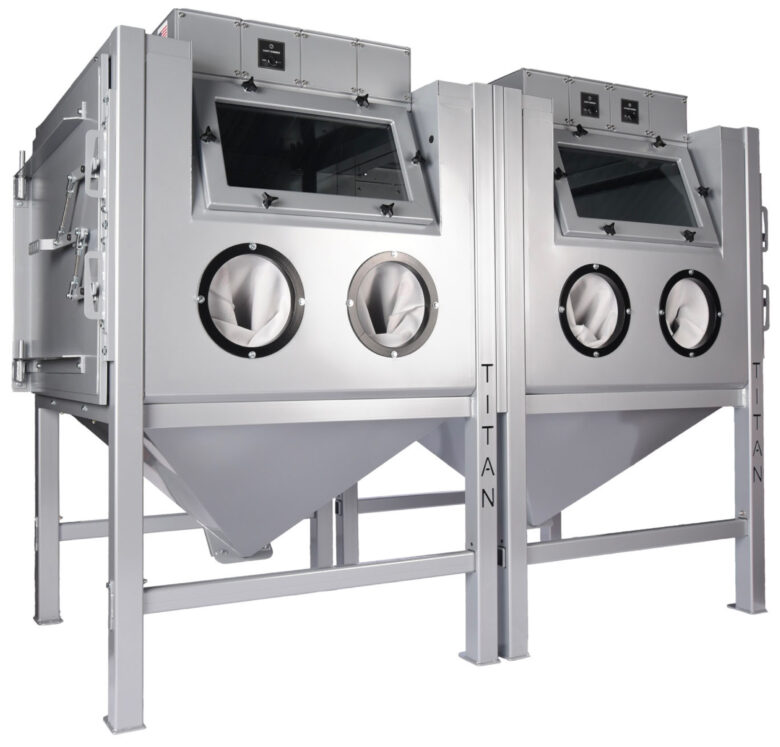 TITAN EXCLUSIVE

Rugged Structural Steel Frame
The first of its kind, Titan's blast cabinet is built to withstand day-to-day abuse, including forklifts.
The rugged structural steel frame won't bend, fold, or twist.
Competitor models with sheet metal legs will look at the Titan blast cabinet legs and weep.
TITAN EXCLUSIVE

Leak-Proof Doors
All Titan blast cabinet come standard with two rigid, steel channel, double panel doors with knife edge.
Doors will not leak or warp!
Designed with productivity – and ease of use – in mind.
Lift-off hinges allow for fast on-off door removal – eliminating troublesome welded hinges.
Full-opening doors maximize work chamber capacity and ease loading of larger parts.
Self-adjusting dual door latches lock at two points – enabling a perfect, dust-free seal every time.
TITAN PATENTED EXCLUSIVE

LED Window Frame Light
All Titan blast cabinets come standard with LED lights around the window frame, outside of the blast environment
Aids visibility while blasting
Eliminates work surface shadows
Provides exceptionally bright work area
Reduces energy costs
Inlet air keeps the viewing window clear during operation
When the glass needs replacing due to pitting, simply unscrew the knobs, pop off the frame, and insert a new window
TITAN EXCLUSIVE

Safety Door Proximity Sensors
All Titan blast cabinets come standard with safety door interlocks with proximity sensors.
No more chunks of rubber "cheese" to seal off the air hole.
Electric proximity sensors detect if the blast cabinet doors are shut properly.
If the cabinet doors are not correctly shut, the operator can't blast.
TITAN EXCLUSIVE

Bolt-in Floor Supports
All Titan blast cabinets have floor supports bolted-in versus welded
The inside of a blast cabinet takes a beating and after 10 years or so, parts need replacing, such as the metal floor and floor supports
Parts replacements is a breeze
TITAN EXCLUSIVE

100% Electric Controls
All Titan blast cabinets come standard with electric controls
Fastest response time
The days of troubleshooting air leaks or waiting for pneumatic controls to build pressure are over
TITAN EXCLUSIVE

Removable Lifting Bars
All Titan blast cabinets come with removable lifting bars.
Makes moving a blast cabinet using a forklift easy.
Simply slide the bars into the structural steel frame before lifting – no more crunched cone!
Customizable Control Panel
Standard controls include on/off switch, minihelic pressure gauge, and LED lights dimmer.
Removable control panel plates allow you to easily add other controls, e.g. remote pressure regulator, photohelic gauge, etc.
Located at the top of the machine so it's easy to look up and see the gauges during operation.
Easy Change Gloves
No more getting dirty when changing gloves
Titan's removable 10" glove rings allow glove changes from outside the cabinet
Simply unscrew the rings to pull out the entire assembly
The ring is made of metal versus plastic for years of trouble-free use
Moveable Foot Pedal
Instead of being attached to the machine or frame, the Titan foot pedal rests on the floor.
Place it where it best suits you.
Comes with safety guard.
Standard Features
3 cu ft pressure vessel
LED window frame light
12-gauge all-welded steel construction – for decades of uncompromised use
Heavy-duty cast iron valves that don't clog
Boron carbide blast nozzle
Pressure regulator and moisture separator
Blow-off gun
3/16" perforated reinforced floor
Custom Options
Titan's unique design allows for additional options that can be added as part of the original RFQ or post-purchase.
Bolt two cabinets together to create a longer blast cabinet – and eliminate having to buy two complete systems; this can be done at the factory or by the customer.
Add a vertical door that slides up and down on a pneumatic cylinder.
Add a custom-sealed opening in a door to accommodate longer parts (e.g. blasting ends of a long pipe or steel).
Specifications
| Model | Interior Dimensions | Overall Dimensions | Door Opening | Number of Doors | Pressure Vessel Size | Reclaimer Ventilation Rate | Fan HP | Price | Payments as low as |
| --- | --- | --- | --- | --- | --- | --- | --- | --- | --- |
| 3838 | 38″ W x 38″ D x 38″ H | 46″ x 40″ x 78″ | 35″ H x 34″ W | 2 | 3 cu ft | 600 CFM | 1.5 | $39,995 | $553/month |
| 4838 | 48″ W x 38″ D x 38″ H | 56″ x 40″ x 78″ | 35″ H x 34″ W | 2 | 3 cu ft | 600 CFM | 1.5 | $42,995 | $583/month |
| 4848 | 48″ W x 48″ D x 38″H | 56″ x 50″ x 78″ | 35″ H x 42″ W | 2 | 3 cu ft | 900 CFM | 3 | $47,995 | $594/month |
| 6048 | 60″ W x 48″ D x 38″ H | 68″ x 50″ x 78″ | 35″ H x 42″ W | 2 | 3 cu ft | 900 CFM | 3 | $52,995 | $623/month |
| 6060 | 60″ W x 60″ D x 50″ H | 68″ x 62″ x 86″ | 47″ H x 54″ W | 2 | 3 cu ft | 1200 CFM | 5 | $57,995 | $665/month |