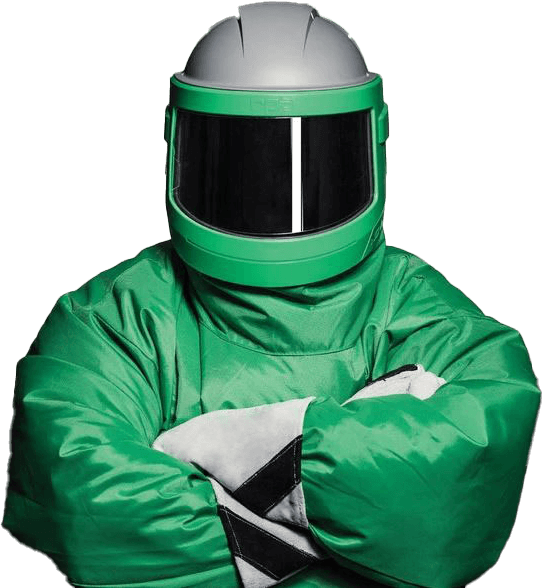 Brandon Acker /
11.23.2020
Titan Abrasive Introduces Completely Redesigned, Patent-Pending Blast Cabinet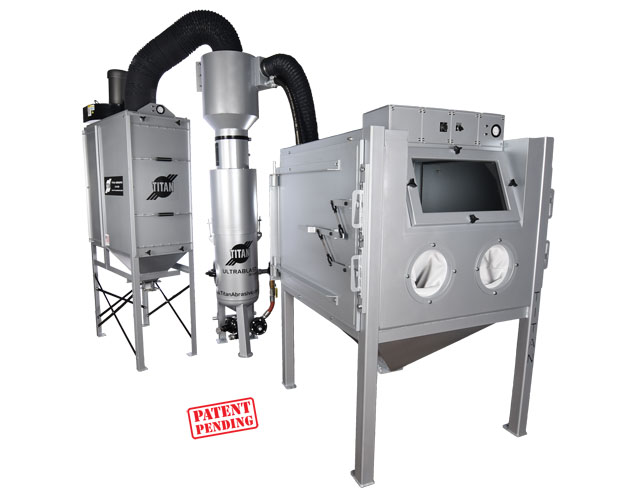 When I took the helm of Titan Abrasive in 2013, I began the process of redesigning the entire product line.
Some things, such as our cast iron valves that don't clog, I left alone. The Titan valves are known in the industry and when you have a good thing, you don't mess with it.
Other products, however, needed to be rethought – and completely redesigned – to take advantage of new thinking, materials, and technology.
Our engineering team, headed by Brian Fox, a 25-year blast industry veteran, first tackled the dust collector. He had dozens of ideas that industry naysayers said were too expensive to implement.
We ignored them.
In 2015, Titan Abrasive introduced our high-performance Cartridge Dust Collector with nanofiber filtration. Specifically designed for industrial blast rooms, the compact design and durability were features lacking in traditional dust collectors.
It was also modular – allowing users to easily expand or reconfigure without having to purchase additional dust collection systems.
Most importantly, our filter cartridge is the only one to receive a MERV 15 rating – 16 being the highest. (See the EPA website for MERV ratings and explanation.)
In early 2020, Titan Abrasive introduced the Small Cartridge Dust Collector. Designed specifically for blast cabinets, this dust collector incorporates all the features and benefits of our larger dust collector – except on a smaller scale.
But we didn't stop there.
The brand-new Titan Blast Cabinet – The last one you'll ever need to buy
Today, I'm proud to announce the launch of the Titan Blast Cabinet. Over two years in development, the Titan Blast Cabinet solves all the challenges faced by blast operators – from leaking doors and low performance to flimsy frames and poor cabinet lighting.
Everything on the Titan Blast Cabinet has been designed with the blast operator – and your company's bottom line – in mind.
Flimsy sheet metal frames – gone!
Over the years we've seen a lot of used equipment come through our trade-in program. As items passed through our facility, we took note of problems, including blast cabinets with dented frames and bashed-in side panels.
The Titan Blast Cabinet incorporates a solid structural steel frame that withstands day-to-day abuse – including having a forklift driver sideswipe or back into it.
Another feature that's exclusive to Titan – lifting bars. When you need to move a blast cabinet with the forklift, simply attach the bars to the frame. No more crunched cone!
Doors that absolutely will not leak or warp
The number one challenge blast operators face is leaking doors – especially if working near a cleanroom or other sensitive areas. No one wants toxic dust blowing into the work environment.
The new Titan Blast Cabinet completely eliminates this problem.
First, we designed our steel channel, double panel doors from rigid structural steel, and included a knife-edge to guarantee a leak-proof seal. These doors are like concrete and absolutely will not warp.
Second, each blast cabinet has a door on each side – and each door locks at two points, ensuring the door is correctly sealed top and bottom – which you can view in the video.
LED window frame lights to eliminate shadows
Old-style blast cabinets have poor-quality flood or fluorescent lights set into the top of the cabinet, which means light shines down and adds shadows to the work surface. To eliminate this problem, we placed ultra-bright energy-efficient LED lights into the window frame.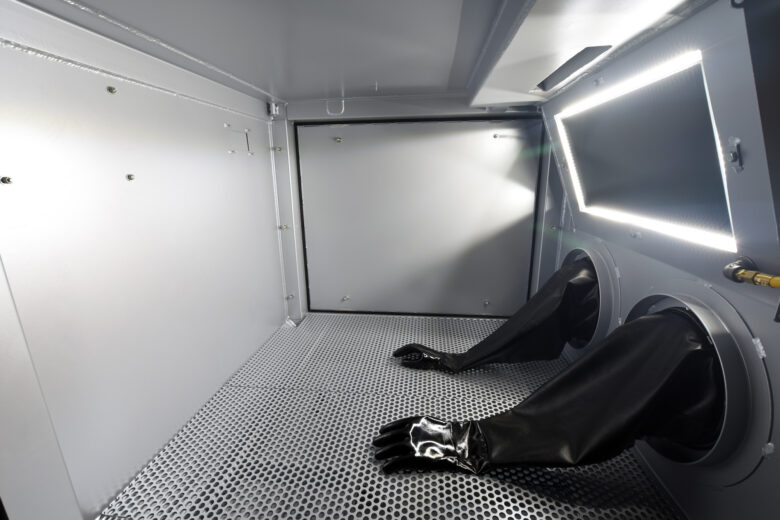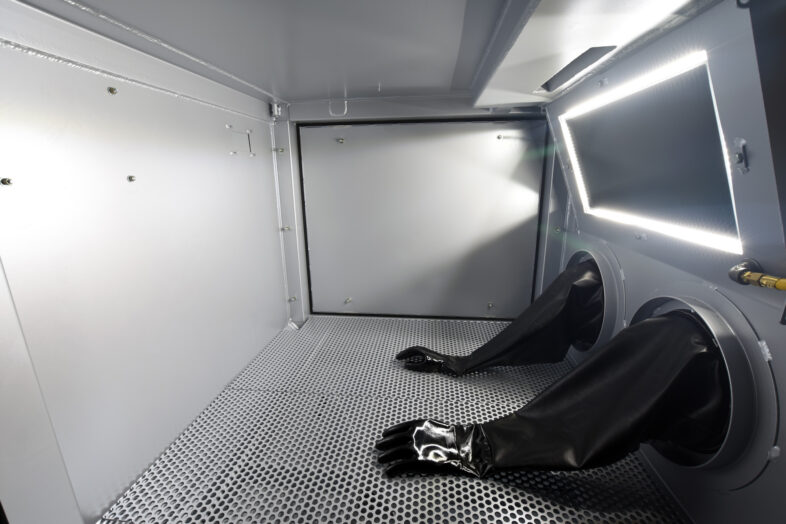 The LED lights shine in the direction the operator is working and provide a clean, brightly lit work area.
Housed in the metal window frame outside of the blast environment, the LED lights deliver long life and energy efficiency.
Proximity sensors for improved worker safety
The first in the industry, all Titan blast cabinets come standard with safety door interlock Proximity sensors. No more chunks of rubber "cheese" to seal off the air hole, or poor quality pneumatic switches. The electric Proximity sensors detect the presence of a nearby object without any physical contact. If the blast cabinet doors are not shut properly, the operator can't blast.
Still Made in the USA
All Titan products, including the Titan Blast Cabinet, are made right here in the USA – with many materials and components sourced regionally. And yep, we use tough, 12-gauge steel manufactured by US mills.
9 more features that improve your blast experience
We spent a lot of time carefully designing the new Titan Blast Cabinet and believe we've solved just about every challenge we've ever encountered with old-style, leaky cabinets.
Be sure to read the Blast Cabinet product page for the many other features I didn't list here – including the 100% electrical controls as standard (another Titan exclusive).
The entire Titan team is quite proud of the new Titan Blast Cabinet. We're shipping now, so be sure to inquire.
Due to our team's innovative thinking and creativity, the Titan Blast Cabinet will literally be the last one you'll ever need to buy. Of course, if you want more than one unit, we won't say no.
Brandon Acker

:

President

Brandon purchased Titan Abrasive from his uncle and founder in 2013. Titan has since redesigned its entire product line to solve dozens of industry challenges.

Brandon purchased Titan Abrasive from his uncle and Titan founder, Bruce Maurer, in 2013 after spending five years learning the ins and outs of the business. He and VP of Engineering Brian Fox have completely redesigned the entire product line to solve the dozens of challenges that have plagued the blasting industry for decades.

Brandon is passionate about American manufacturing, the jobs it creates, the quality produced, and the bright future that lies ahead. He's a frequent guest on manufacturing podcasts where he shares his deep industry expertise. Brandon holds a Bachelor of Science degree from Arizona State University.