The Titan Abrasive team is very pleased to announce that our new Small Cartridge Dust Collector is now available for order.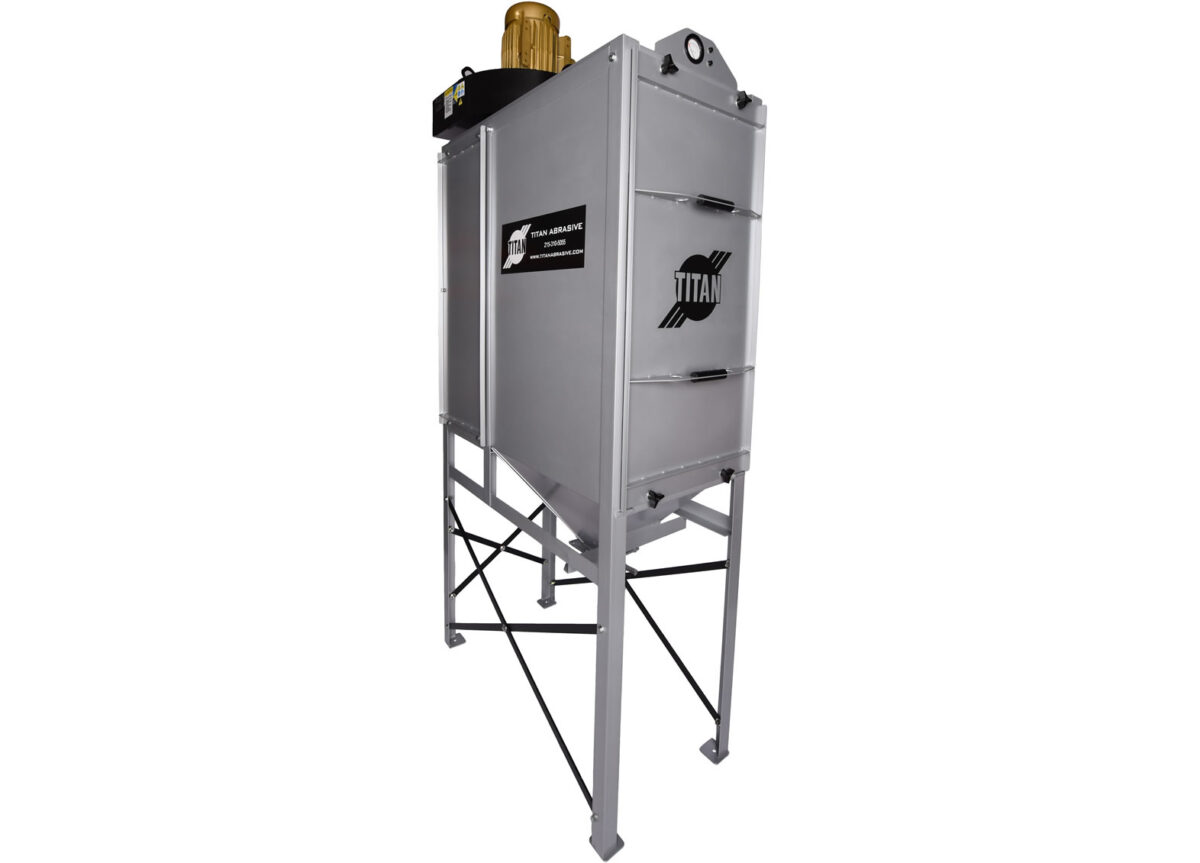 In development for over a year, the Small Cartridge Dust Collector was designed specifically for blast cabinets.
Standard size dust collectors are often too large for blast cabinets, especially in locations where space is tight (such as a manufacturing work cell). To solve this challenge, the Titan engineering team focused on reducing overall height and footprint – while still retaining all the features of our best-selling standard-sized cartridge dust collector.
Designed to save you money
Our Small Cartridge Dust Collector incorporates many of the features that make our larger dust collectors so popular, including:
Modular design – The unique modular design adds flexibility and versatility. While most blast cabinets require only a single unit, you can easily add a second one should your application require it – eliminating expensive rework or complete system replacement.
Standard internal abrasive wear inlets – Save money long-term with bolt-in and replaceable parts.
Nanofiber filtration – Allows for the filter to surface load, resulting in lower pressure drop, reduced pulse-cleaning cycles, and less wear and tear.
Longer filter life – Fewer change-outs mean big cost savings over the life of the unit.
Highest MERV efficiency rating – No other filter cartridge compares.
In addition, Titan's Small Cartridge Dust Collector is available with a solenoid valve with timer, photohelic pressure gauge, and longer legs to accommodate a 55-gallon waste drum.
The entire Titan team is proud of our new Small Cartridge Dust Collector. In addition to designing it to help you reduce costs, we also burnt the midnight oil in order to completely redesign our Blast Cabinet – which are shipping now.
Both the Small Cartridge Dust Collector and redesigned Blast Cabinet will provide a whole new integrated blast experience. We eliminated leaking doors, dim lighting, and low performance – to name a few things. Stay tuned for more news in Q2!
To inquire about our new dust collector and blast cabinet, or to place an order, shoot us an email or give us a call.