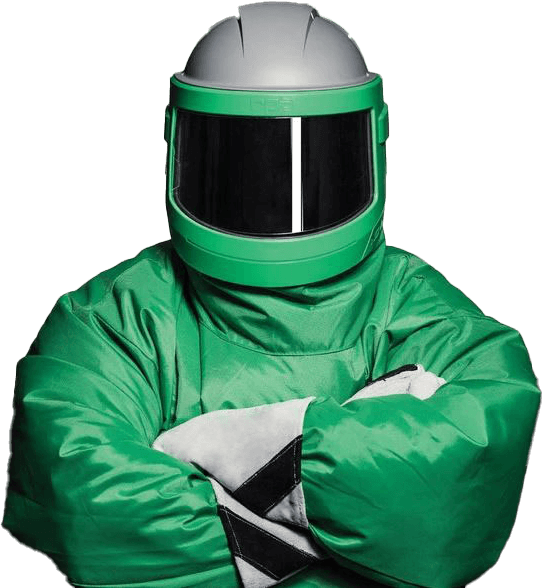 Brandon Acker /
02.21.2020
I Have a Blast Cabinet. Can I Use Titan's Dust Collector with It?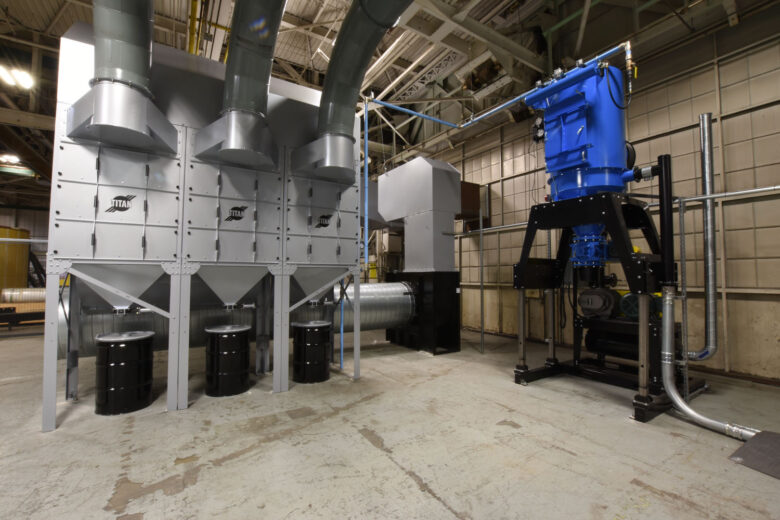 Abrasive blasting creates a great deal of airborne material, including particles from the abrasive media itself, as well as small particles of material being removed.
To create a clean, safe environment for the blast room operator, while ensuring good visibility, a cartridge dust collector is used to remove this material.
Titan now offers two types of dust collectors: our standard version, designed specifically for abrasive blast rooms, and our brand-new Small Cartridge Dust Collector.
In this FAQ, you'll learn why Titan's dust collectors deliver some of the best benefits on the market, as well as why our new Small Cartridge Dust Collector is perfect for your blast cabinet.
Modular Design
Titan dust collectors can easily be expanded to meet and grow with your needs. The flexible, modular design eliminates the need for a complete replacement of a working dust collection system due to size requirements.
All Titan dust collectors incorporate this versatile, money-saving feature — which you won't find on any competitor dust collector line.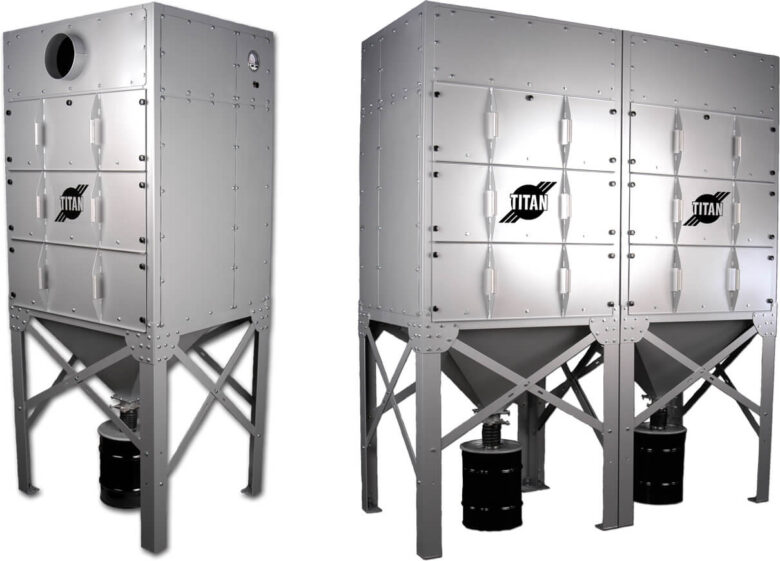 Nanofiber Filtration Technology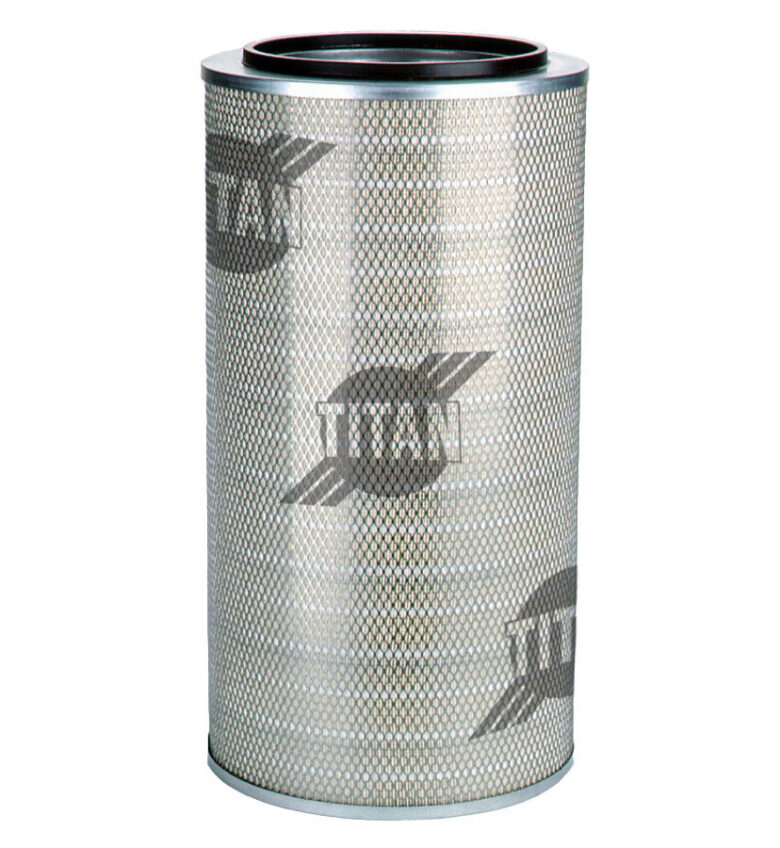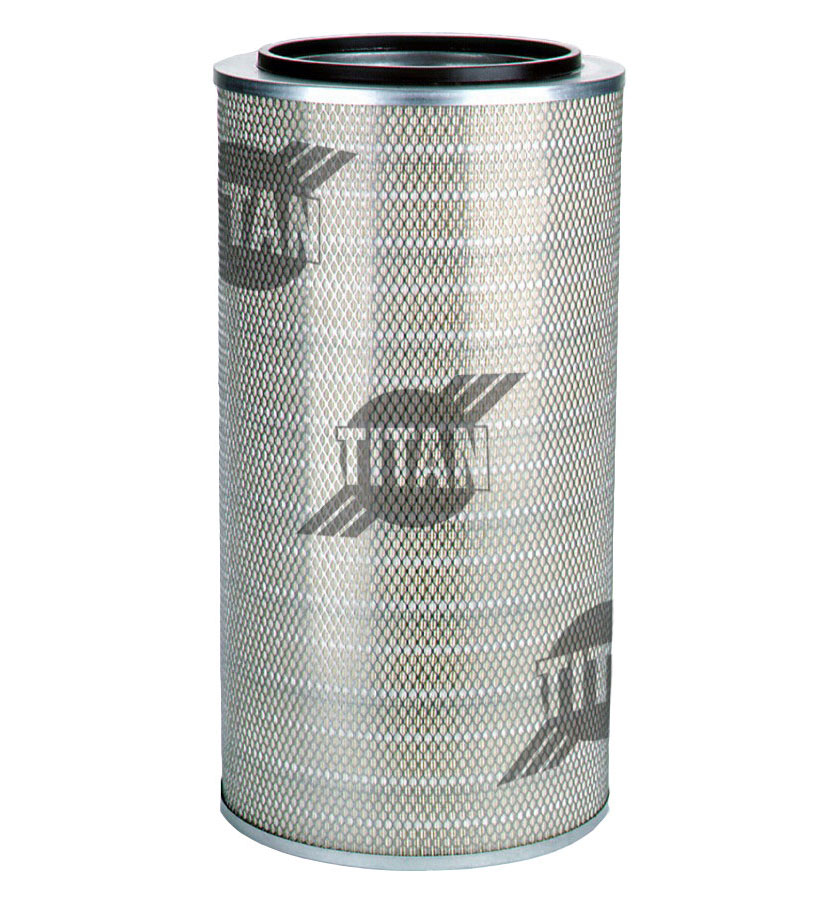 If you're considering a competitor dust collector with bags — stop right now! Dust bags are very old technology. Most up-to-date dust collectors use filter cartridges.
Titan takes the filter cartridge one step further with nanofibers 50% smaller than those used by other manufacturers.
Nanofibers are very fine, continuous, resilient fibers that form a permanent web with very small spaces in-between the fibers. This web collects dust, dirt and contaminants on the surface of the filter, rather than deeply embedding them (as with other materials).
The result is the most advanced filtration of sub-micron particles and reduced outlet emissions on the market today.
MERV 15 Efficiency Rating
Titan's nanofiber filters have the highest MERV efficiency rating of any standard cartridge filter. Other performance benefits include:
Reduced energy consumption — Significantly reduced pulsing and stress lower initial pressure drop over the life of the filter
Superior surface-loading technology — Improved cleaning efficiency and lowers compressed air usage
Longer filter life — Fewer change-outs mean big cost savings for you
Designed for Blast Cabinets
Standard dust collectors are often designed for blast room applications, and as such, are overkill for their smaller cousin blast cabinets.
To address this need, Titan has developed the Small Cartridge Dust Collector — designed specifically for use with blast cabinets (including our own redesigned cabinet line).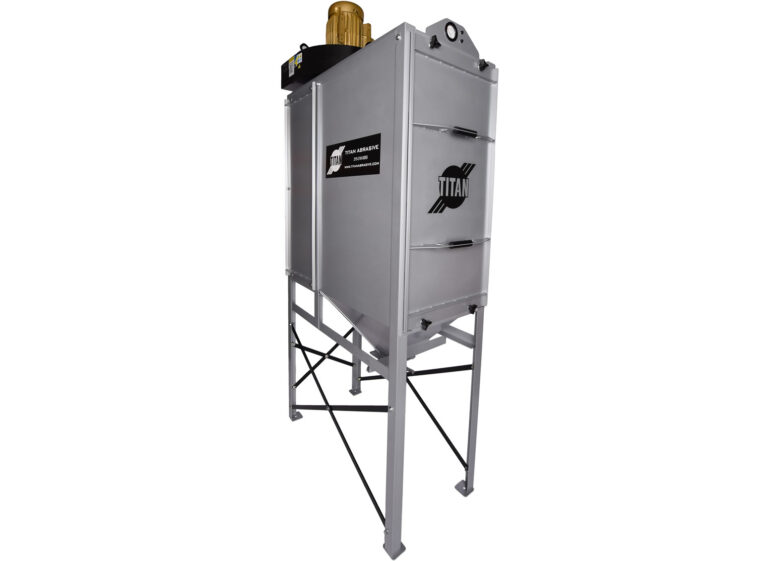 Our Small Cartridge Dust Collector incorporates many of the same features that make our larger dust collectors so popular: modular design, standard internal abrasive wear inlets, nanofiber filtration, and a smaller footprint and overall height.
In addition, Titan's Small Cartridge Dust Collectors are available with:
Solenoid valve with timer — Eliminates the need for the operator to manually push a button to clean the filters; automatically cleans filters on a timed cycle
Photohelic pressure gauge — The most advanced, fully automated cleaning system, the gauge measures and controls differential pressure, increases filter life, and reduces system air consumption; factory installed
Longer legs — Accommodates a 55-gallon waste drum
These new units are the smallest, most durable, and versatile dust collector line for use with a blast cabinet on the market.
A Whole New Blast Cabinet Experience
While Titan's Small Cartridge Dust Collectors can work with any competitor blast cabinet, they were designed in conjunction with our redesigned, and patent-pending, blast cabinet line.
In the making for over two years, Titan's engineers burned the midnight oil to create the most durable and forward-thinking industrial blast cabinet on the market today.
We took our 70 years of experience designing and manufacturing industrial blast equipment and solved numerous industry challenges — just as our founder did back in the day with the industry standard Titan abrasive regulator valve.
Say good-by to leaking doors, twisted and dented sheet metal frames, dim lighting, low performance, and small capacity pressure vessels – and say hello to a whole new blast cabinet experience.
Our new blast cabinets are shipping now – and they work perfectly with Titan's Small Cartridge Dust Collector for a completely integrated system.
Still direct to you
While we're super excited about our new products, what hasn't changed is this: we still sell direct to you. No middleman, no waiting weeks for quotes, no mark-up.
You get the best, most durable, most innovative industrial abrasive blast equipment at a much lower cost.
And most important of all, Titan Abrasive equipment is designed, engineered, and manufactured right here in the USA.
Brandon Acker

:

President

Brandon purchased Titan Abrasive from his uncle and founder in 2013. Titan has since redesigned its entire product line to solve dozens of industry challenges.

Brandon purchased Titan Abrasive from his uncle and Titan founder, Bruce Maurer, in 2013 after spending five years learning the ins and outs of the business. He and VP of Engineering Brian Fox have completely redesigned the entire product line to solve the dozens of challenges that have plagued the blasting industry for decades.

Brandon is passionate about American manufacturing, the jobs it creates, the quality produced, and the bright future that lies ahead. He's a frequent guest on manufacturing podcasts where he shares his deep industry expertise. Brandon holds a Bachelor of Science degree from Arizona State University.