When we began designing the new Titan Blast Cabinet, our goal was to solve the problems we've encountered over the years with traditional blast cabinets.
For example, to keep production costs in check, and to reduce weight, larger manufacturers relied on sheet metal to form the frame and sides of their blast cabinets.
A versatile material, sheet metal is used for all types of industrial and consumer applications – from steel buildings and vehicles to a myriad of metal parts and components.
The problem with sheet metal, however, is that because it can be bent, shaped, pressed, formed, stamped, punched, die-cut, etc., it's also easily damaged, as seen in the following photo.
This older blast cabinet I came across a number of years ago has bent sheet metal legs. Although bending sheet metal does increase its rigidity, it doesn't provide nearly as much strength as structural steel.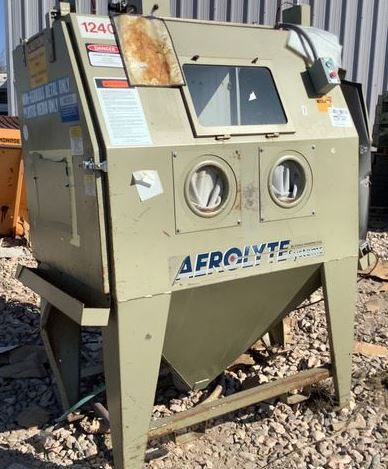 In this next photo, you can see the damaged back legs, probably due to a forklift collision, and the crushed and broken door.
That's the problem with sheet metal.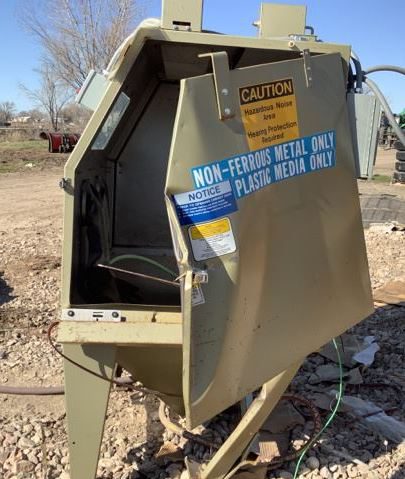 Introducing the structural steel frame: A Titan exclusive
Titan Blast Cabinets, on the other hand, incorporate structural steel.
Structural steel components add strength and rigidity to the systems in which they're used – including blast cabinets.
This next photo shows the Titan Blast Cabinet legs. Each leg is a 3″ structural steel tube and therefore, incredibly strong. The "TITAN" name was cut out of the steel tube with a Mazak 3D laser-cutting machine.
The benefit to you? The legs and frame of our industrial blast cabinets will not bend, twist, or break – even if side-swiped or backed into by a forklift – giving you years of uncompromised use.
Our commitment to providing innovative, high-performance blast equipment is why we say the Titan Blast Cabinet is the last one you'll ever need to buy.
Our blast cabinets are shipping now. To inquire, call, email, or complete our RFQ form.