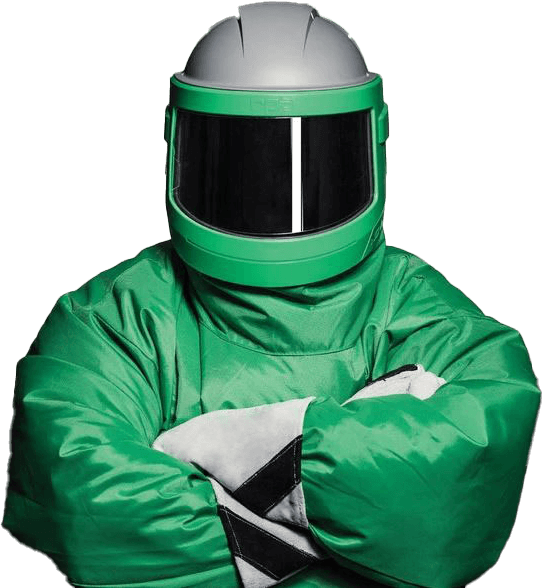 Brandon Acker /
04.10.2018
Blast Rooms – Blast Booths – Blast Cabinets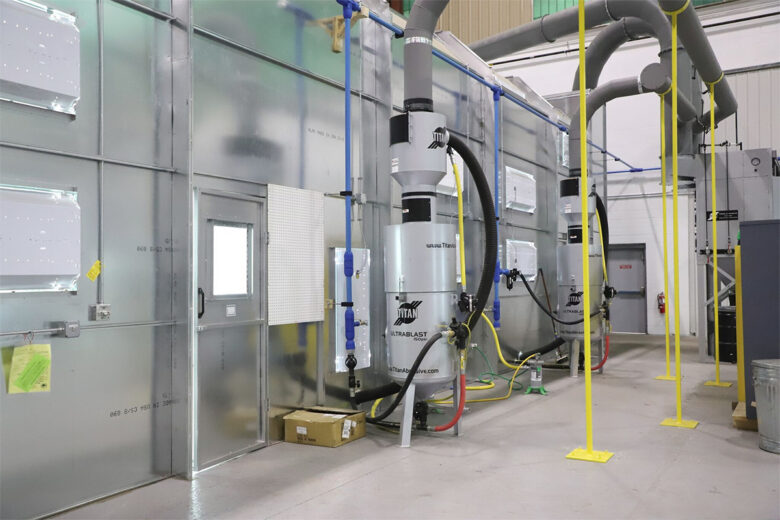 What is a blast room?
A blast room is a much larger version of a blast cabinet. Blast operators work inside the room, abrasive blasting the surfaces of objects to meet the needs of the finished product. Blast rooms come in many sizes, some of which are big enough to accommodate rail cars, commercial and military vehicles, construction equipment, and aircraft.
Each application may require the use of different pieces of equipment; however, several key components can be found in a typical blast room:
The enclosure or room – A blast room is an enclosure designed to remain sealed to prevent blast media from escaping. Typically blast rooms contain lights, product entry/exit doors, and a personnel door.
Blast equipment – An air blasting system that commonly consists of a blast machine (blast pot), which can be filled with various abrasive blasting medias.
Media reclaim system – A media reclamation/recovery system that's used to collect abrasive blasting media so it can be re-used. These can be pneumatic or mechanical (bucket elevator) systems, installed on or in the floor of the blast room.
Dust collector – A dust collection system is the most important component of an abrasive blasting room. The dust collector filters the air in the room, allowing maximum visibility, safety for the blast operator, and prevention of particulate matter from escaping.
Additional equipment can be added for convenience and improved usability, such as control panels, overhead cranes, rubber lining, LED lighting, etc. To learn more about blast rooms, please see our Blast Room products page.
What's the difference between a blast room, a blast booth, and a blast cabinet?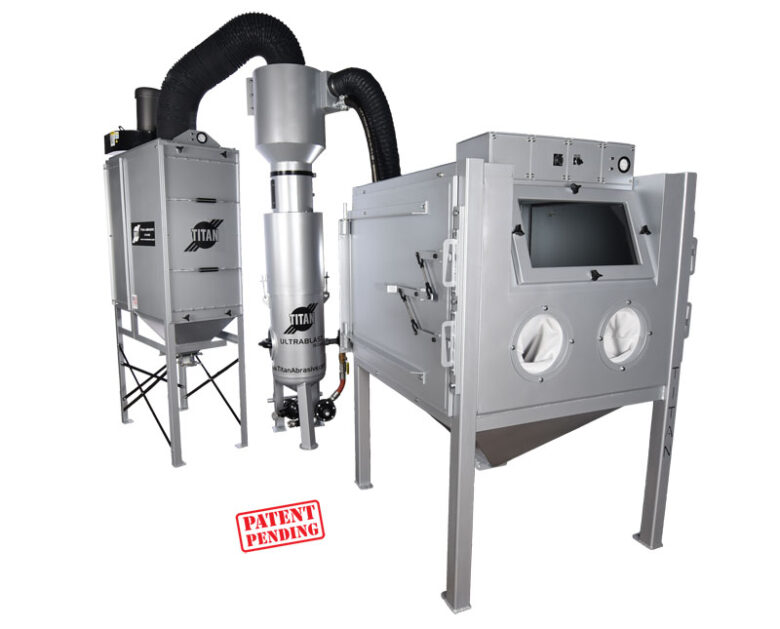 The terms "blast room," "blast booth" and "blast cabinet" are often used interchangeably as they perform the same function. The difference between a blast room and a blast cabinet, however, is where and how the blast operator works.
Blast rooms, or blast booths, allow operators to work inside the enclosure; they're protected from the abrasive media by heavy duty gear and face/head shield.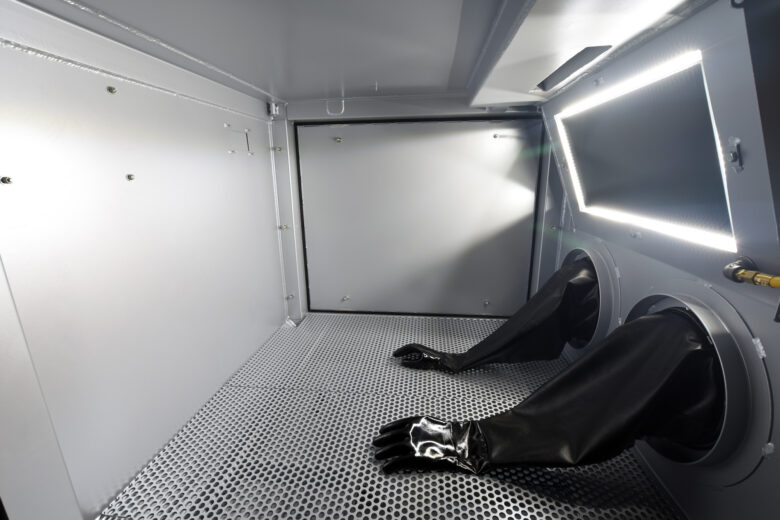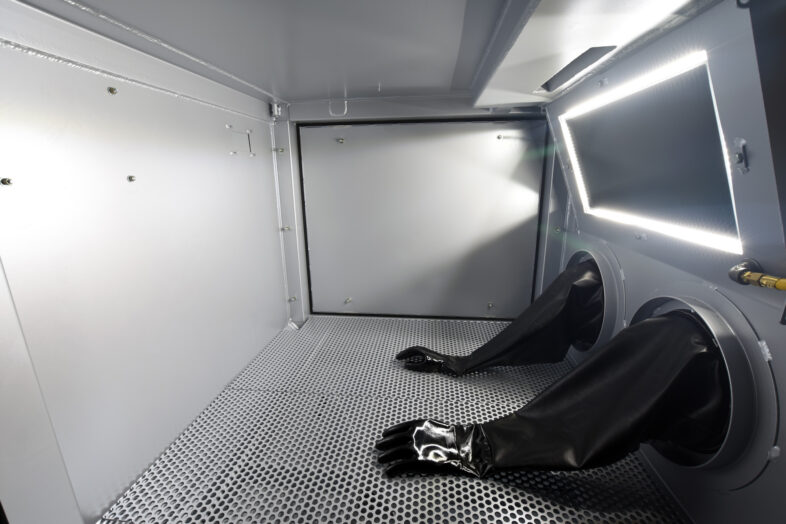 With blast cabinets — also referred to as "blast booths," although this is technically incorrect — operators stand outside the cabinet. They operate the internal blast controls by inserting their arms into the gloves attached to glove holes on the cabinet, viewing the part to blasted through a view window, and turning the blast on and off using a foot pedal.
A blast cabinet usually consists of four components: the containment (cabinet), the abrasive blasting system or blast machine, the abrasive recycling system, and the dust collector.
Sandblasting cabinets are found on most shop floors. See our Blast Cabinets page for additional details about Titan's line of high-performance industrial blast cabinets.
What are typical or standard blast room sizes?
Blast rooms can be custom designed and built based on the application. Some can be very large!
Blast rooms also come in standard sizes, depending on the manufacturer. Titan Abrasive offers three, easy-to-install, standard size blast rooms that can also be customized:
10' x 10' x 10'
10' x 10' x 15'
15' x 10' x 25'
See our Blast Room Packages page for details.
How much does a blast room cost?
It depends! For a custom engineered and built on-site blast room, we would provide you with a quote after talking with you about your particular application.
For one of our blast room packages, expect to pay anywhere from $70,000 to $100,000 depending on size, type and any customizations.
Do you sell complete blast room packages with recovery systems and dust collectors?
Yes! See our Blast Room Packages page for details.
How many man doors are required in a blast room?
It depends on the size of the blast room, the location, and the application. A standard size sandblast room typically has one personnel/man door; larger rooms can have two or more man doors. In addition, a blast room can have one entry / exit door, or it can have pass-through doors on either end, large enough to accommodate a forklift, vehicle, or very large assembly.
Are blast rooms portable?
Most blast rooms are not portable; because they're large and heavy, they're not easily moved to a new location. To move it, you would need to disassemble the blast room and then reassemble it.
Do you rent blast rooms?
No, we don't rent blast rooms. We custom design and build blast rooms as well as provide complete blast room packages in standard sizes.
Do you sell used blast rooms?
No, we do not, but we do sell used blast cabinets, reclaim systems, bucket elevators, etc. Please inquire as our inventory changes on a regular basis.
How large of a dust collector do I need? Or, what size dust collector do I need for my blast room?
The typical calculation for dust collector sizing is determined by the following formula:
Width of Room x Height of Room x Cross-Sectional Air-Speed (FPM) = C.F.M.
The cross-sectional airspeed is typically 50 f.p.m. for steel grit abrasive and 60 f.p.m. for non-ferrous mineral abrasives.
A great deal goes into building an abrasive blast room, from determining the size of the room, to properly configuring the dust collection and media recovery systems. Let Titan Abrasive and our 60+ years of experience design the perfect system to suit your specific needs and maximize your ROI. Contact Us today for a free quote.
Do you sell blast room dust collectors?
Yes! Our cartridge dust collectors are the most affordable high-performance dust collectors on the market today and have been designed exclusively for abrasive blasting applications. Since our dust collectors are modular, no job is too big or too small.
Brandon Acker

:

President

Brandon purchased Titan Abrasive from his uncle and founder in 2013. Titan has since redesigned its entire product line to solve dozens of industry challenges.

Brandon purchased Titan Abrasive from his uncle and Titan founder, Bruce Maurer, in 2013 after spending five years learning the ins and outs of the business. He and VP of Engineering Brian Fox have completely redesigned the entire product line to solve the dozens of challenges that have plagued the blasting industry for decades.

Brandon is passionate about American manufacturing, the jobs it creates, the quality produced, and the bright future that lies ahead. He's a frequent guest on manufacturing podcasts where he shares his deep industry expertise. Brandon holds a Bachelor of Science degree from Arizona State University.