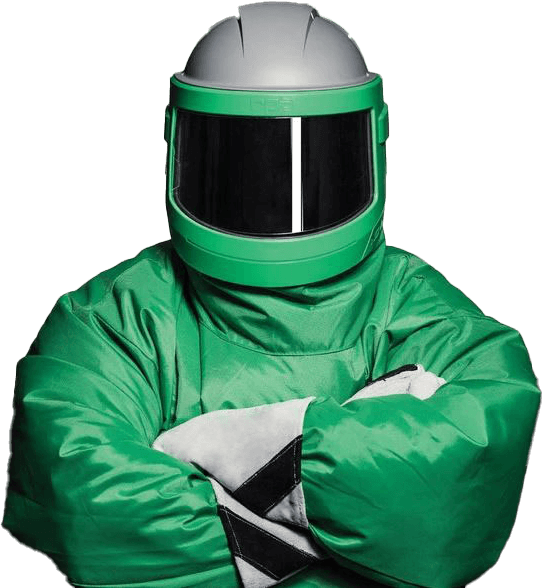 Brandon Acker /
01.26.2021
Challenge Solved! Titan Blast Cabinet Doors Will Not Leak or Warp. Guaranteed.
The number one challenge blast cabinet operators face is leaking doors – especially if working near a cleanroom or other sensitive area.
No one wants toxic dust blowing into the work environment.
As part of our industrial blast cabinet redesign, we completely rethought the blast cabinet door – and in the process, developed five design features you won't find standard on any other cabinet.
Design feature #1: Double panel doors with dual-latch locking system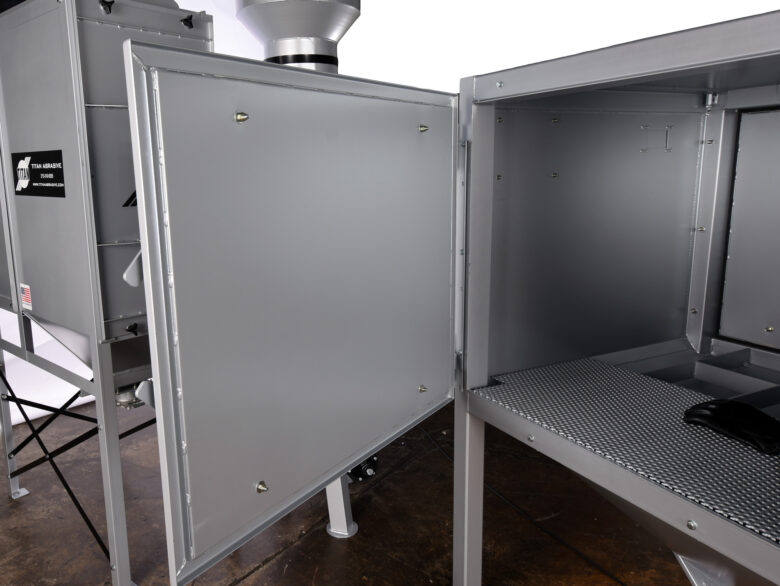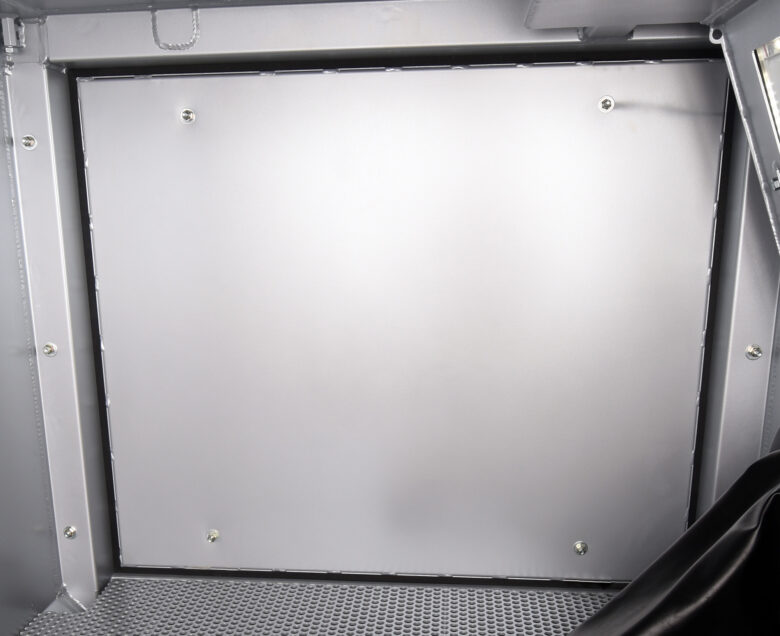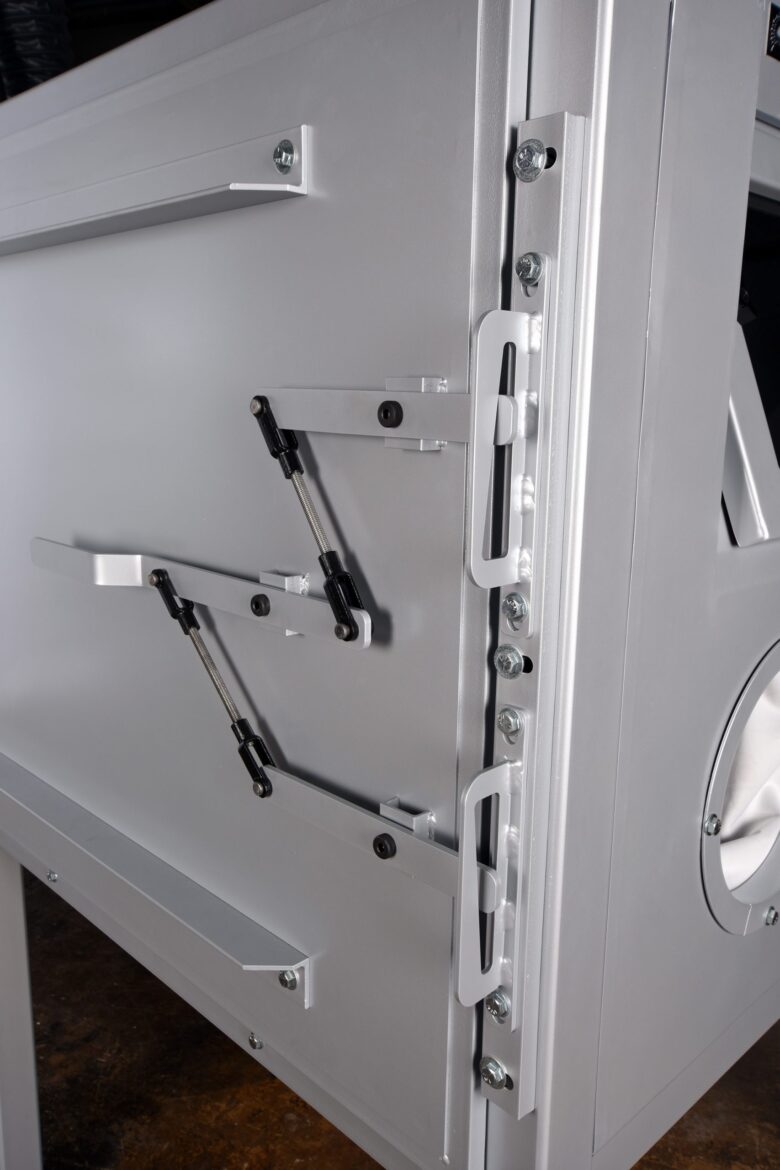 Traditional blast cabinet doors typically incorporate a latch locking system placed mid-point on the door edge.
The problem with this old-style design is that by having only one locking point, located in the middle of the door, the door begins to bow out above and below the locking mechanism.
No matter how minor the warp, the air-tight seal breaks – a critical failure for facilities that incorporate clean-room type environments, not to mention people breathing in the toxic air.
To eliminate these problems, Titan blast cabinet doors feature rigid steel channels, double panels with a knife-edge that presses into the door gasket creating a perfect seal (Figures 1 and 2).
These doors are built tough and absolutely will not leak, shift, or warp. Period.
The self-adjusting dual-latch locking system (Figure 3) has multiple points of adjustment, allowing you to ensure an air-tight seal – including moving the latches up and down, latch retainer strip in/out, hinge weldment up and down, or in/out.
Having all this adjustability ensures your Titan blast cabinet will be able to maintain a properly sealed door throughout its long life.
Design feature #2: A door on each side of every size cabinet
Traditionally smaller blast cabinets come with only one door, making it difficult to load large, heavy, or odd-shaped parts.
To maximize work chamber capacity and ease part loading, all Titan blast cabinets come standard with two doors.
Design feature #3: Lift-off door hinges
The problem with welding the door hinges to the blast cabinet is that if you need to remove the door, you have to cut the hinge off and then re-weld the new hinge back on – which then leads to air and media leaks due to misalignment.
Titan blast cabinet doors feature lift-off hinges. Need to remove the door? Just lift it off and put it back on. Easy peasy. Need to replace the hinge? No worries, they bolt on.
Design feature #3A: Easily bolt two blast cabinets together
Having a structural steel tube frame and lift-off doors also means it's easy to bolt two blast cabinets together, creating a larger work area, without having to purchase a complete second system.
Design feature #4: Proximity sensors
The first in the industry, all Titan blast cabinets come standard with safety door interlock Proximity sensors.
No more chunks of rubber "cheese" to seal off an air hole, or poor-quality pneumatic switches.
The 24-volt electric Proximity sensors detect the presence of a nearby object without any physical contact. If the blast cabinet doors aren't shut properly or are opened unexpectedly, the blast operation is halted and the operator can't blast.
Design feature #5: Custom door options
Titan's unique industrial blast cabinet design allows for a multitude of options, which can be added at initial purchase or after. Options include:
Adding a vertical door that slides up and down pneumatically – allowing turntables and work cars with track extensions to be easily added.
Custom doors that can easily be added/swapped at any time. For example a door with a rubber flap for blasting long parts, such as pipe, golf clubs, etc. Simply lift off the standard door and install the custom door.
Our commitment to providing innovative, high-performance blast equipment is why we say the Titan Blast Cabinet is the last one you'll ever need to buy.
Our blast cabinets are shipping now. To inquire, call, email, or complete our RFQ form.
Brandon Acker

:

President

Brandon purchased Titan Abrasive from his uncle and founder in 2013. Titan has since redesigned its entire product line to solve dozens of industry challenges.

Brandon purchased Titan Abrasive from his uncle and Titan founder, Bruce Maurer, in 2013 after spending five years learning the ins and outs of the business. He and VP of Engineering Brian Fox have completely redesigned the entire product line to solve the dozens of challenges that have plagued the blasting industry for decades.

Brandon is passionate about American manufacturing, the jobs it creates, the quality produced, and the bright future that lies ahead. He's a frequent guest on manufacturing podcasts where he shares his deep industry expertise. Brandon holds a Bachelor of Science degree from Arizona State University.